I was in Lund for four days at the beginning of June.
I stayed near the LTH campus, in a room at the University Guest House in the student accommodation complex known as "Sparta". It was designed by architect Bengt Edman and completed in 1970, right about the same time as LTH-fontänen. Edman was a contemporary of Klas Anshelm, but favoured a brutalist aesthetic that is immediately apparent as one approaches Sparta from Tunavägen. In contrast to Anshelm's brick buildings on the LTH campus, Sparta looms more moodily – clad in dirty green pre-cast textured concrete with three insistent rows of windows marching the entire length of the building. I liked it.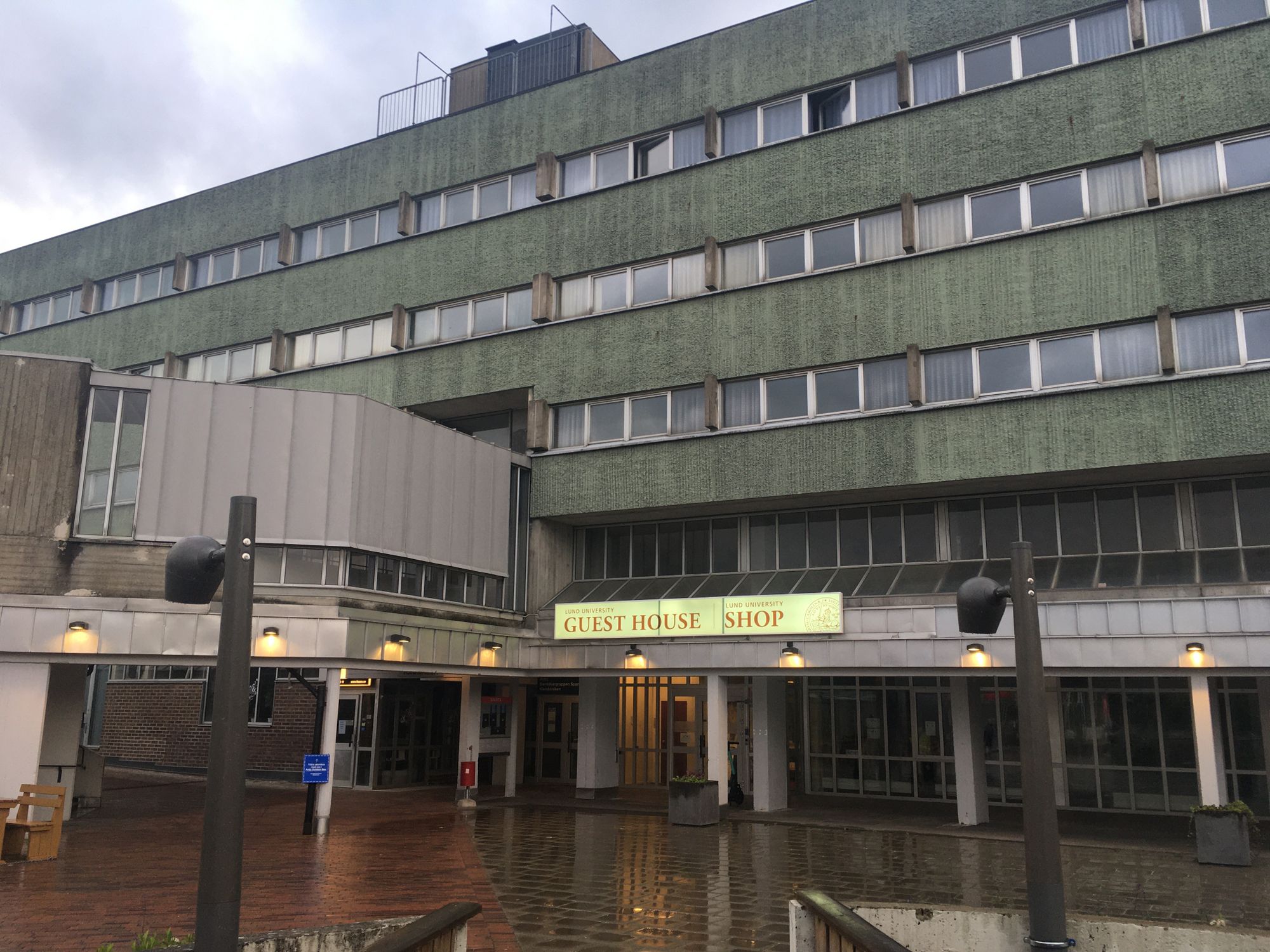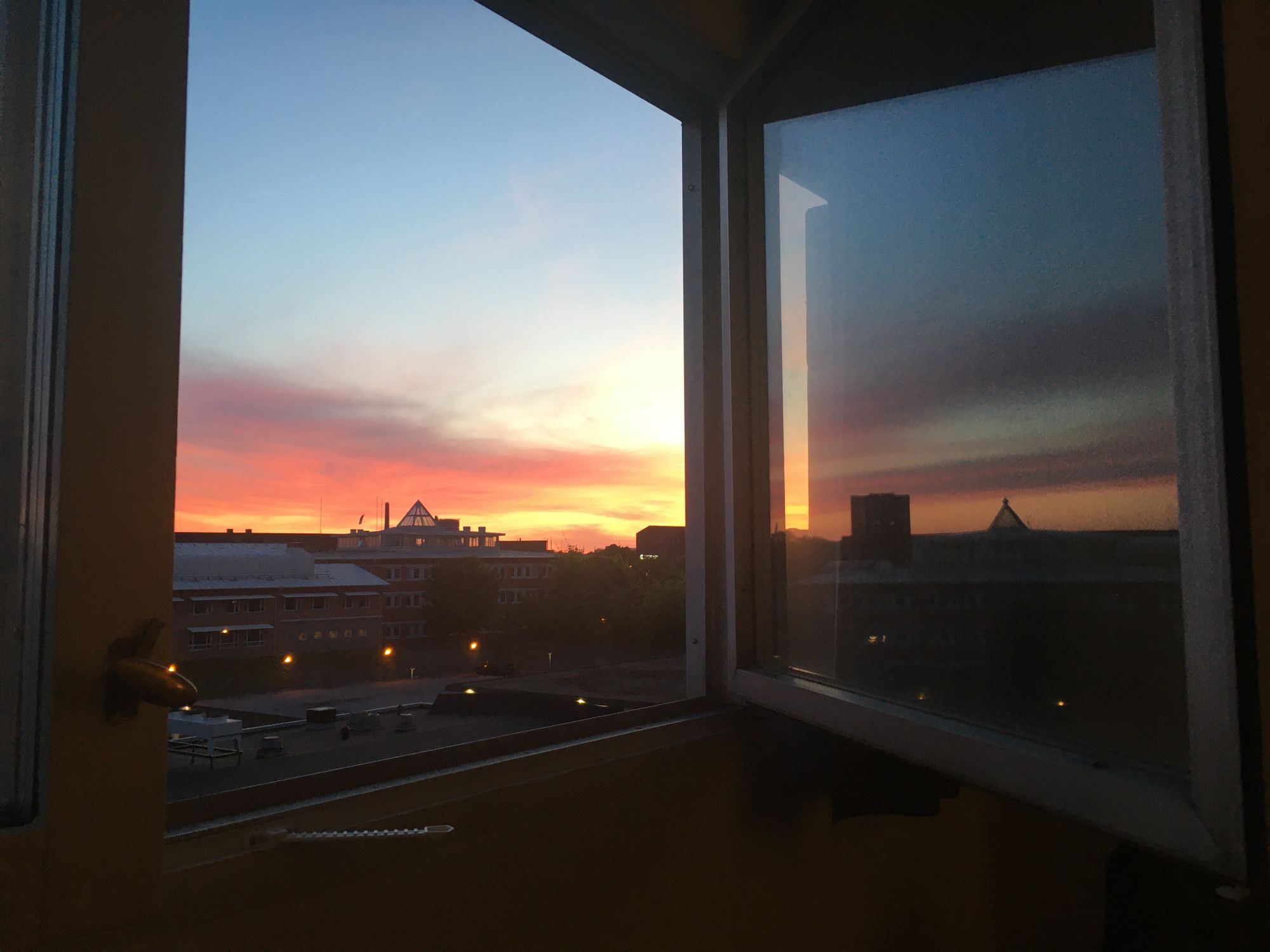 The main reason for this visit was to be on-site for drone filming I'd arranged with Rikard Tyllström from Lund University School of Aviation. I also wanted to spend time in various archives and libraries in pursuit of drawings, correspondence, or anything that might get us closer to the historical rumours of miscalculation that persist around the fountain, but that's for another post.
It was Lars-Henrik's idea to do some drone imaging, and he mentioned the University had a School of Aviation located in a village in Skåne called Ljungbyhed. A Google search had quickly revealed an academic course titled "Drone technology to meet societal challenges" and I wrote to Rikard explaining our project and asked if he or his students might be interested in filming The LTH Fountain as a practical exercise. His reply was quick and affirming:
"Good afternoon Maddie and thank you for contacting us!

We can help you with this at the beginning of June. I will take care of the required permits and risk assessment, any dates you prefer?"
We agreed to meet on Tuesday morning. Rikard, as I expected, was punctual and arrived at the fountain at precisely 9 a.m. Bright, cheerful and clean-cut, it was like meeting a pleasant version of Tom Cruise from Top Gun–without the swagger and attitude–dressed in a practical Hi-Vis vest. Having flown more than 5000 hours in "heavy aviation", and teaching pilots for some years, I had (unimaginatively) pictured him as a more rustic "skåning" character.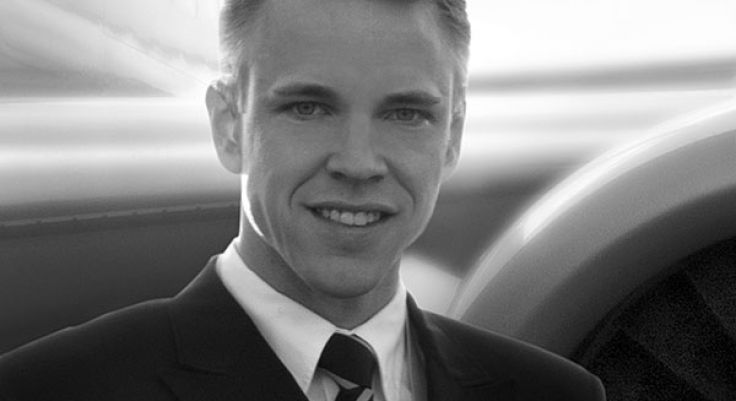 From a small briefcase, Rikard produced a drone that was size of my palm and weighed not more than a few hundred grams. We discussed what was possible and the kind of filmic views we wanted. I was interested in footage that would begin just above the surface of the water, rise upwards through the foliage edging the pond, then travel further upwards to the fountain's steel-framed basins. Lars-Henrik wanted to get some views as one walked under the structure and across the walkway. We both wanted to see what the fountain looked like from high above it. I enthused to Rikard about the one-take drone film recorded in a Minnesota bowling alley earlier this year, wondering if we could have our drone slowly circumnavigate the entire object and fly through it at different levels. He was very patient with our requests, and said he'd give the fly-through a go, no problem.
After a couple of hours we had eighteen short clips taken with different approaches. For us they are captivating because, suddenly, we can see LTH-fontänen in ways we haven't been able to, but also because what surrounds the fountain is recorded in high relief – gentle scenes which reveal how enveloped it is within a living, animated environment. One of my favourite clips is this one where the camera slowly ascends and rotates high above the fountain, the movement of bright green leaves remains visible throughout and a lone cyclist, as if on cue, passes through the frame.